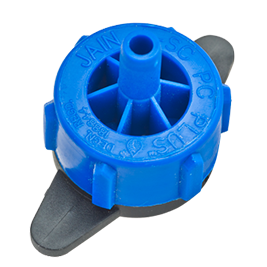 Applications

Recommended for open field application like orchards, fruit crops, vegetables, etc.
Suitable for nurseries, pot irrigation & greenhouse irrigation.
Recommended to use where section size is large and longer lateral length of run is required.
Recommended for undulating terrain & steep slopes.
Recommended to use in problematic water condition where cleaning of emitter is required.
Features & Benefits

Take Apart, Self Cleaning Pressure Compensating (SCPC) Online Emitter
Take apart feature allows easy opening and cleaning of the emitter.

Clog Resistant, Wide Labyrinth
Strong turbulent flow in the labyrinth helps for continual flushing and cleaning.

Precision Pressure Compensation
High quality injection moulded liquid silicone diaphragm ensures precision in pressure compensation helps to maintain high discharge uniformity.

Barbed Inlet with Narrow Inlet Filter
Barbed inlet suitable to connect directly on 4mm extension tube or can be installed on polytube. Cross shaped inlet filters prevents entrance of most of the impurities.

Extended Outlet
For connection of 4mm ID extension tubing for right placement of water with multi-outlet connectors

Wide Pressure Compensating Range
Pressure regulation range 0.8-3.0kg/cm2 pressure (11.38 to 42.66 psi).

Optional Anti-bug Cap
Prevents entry of ants/bugs inside the emitter.

Color Coded Cap
Color coded cap facilitates easy identification of emitter flow rate.

 
More products from Nile Drip